With over 70 craft brewing companies across Scotland, craft beer now contributes close to £63 million to the British economy. Consequently, Edinburgh is but one of many cities to have experienced a surge in new bars catering towards craft beer fans. This new trend now basks the capital in a hoppy aroma for all diehard beer lovers to enjoy, yet a more pressing question arrives: which of these many new venues is the best for craft beer? We have the answer. Listed below, in order, are the 10 best craft beer bars Edinburgh's has to offer:
10. OX184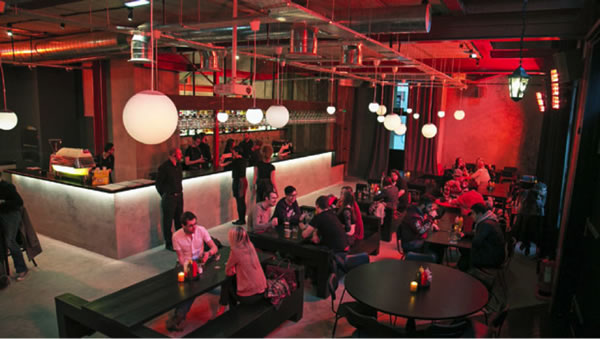 OX184 is one of the most recent craft brewing venues to hit the Burgh, replacing the old nightclub Capital on the Cowgate as both a bar and restaurant with a focus upon American cuisine. With over seven taps and an abundance of bottled and canned beers, OX184 is a solid contender amongst the city's more seasoned veterans by providing a range that samples both Scottish and American ales, though this is by no means extensive. Notable highlights include their supply of Tempest Brewing's Pale Armadillo, Stewart's highly commendable Radical Road, and the very drinkable Easy Livin'.
If OX184 has a problem it is their overpricing of their on tap beer (the average being no less than £4), as well as the absence of a standard, cheap lager (eg. Fosters), but it has plenty to make up for with its excellent selection of alcohol.
9. The Constitution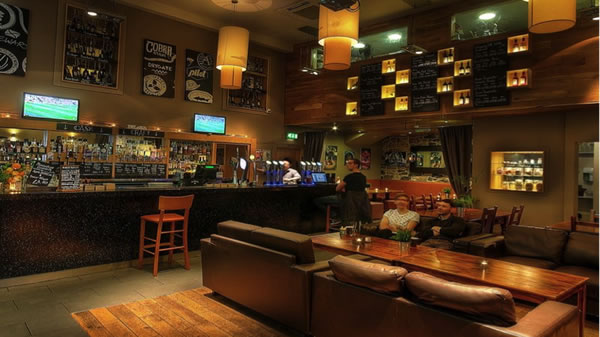 The only venue from Leith to feature, The Constitution makes the grade because of their range and quality. Like many others on this list, The Constitution is committed to providing Scottish beer, but it is unique in that it also offers a platform for Leith's new and upcoming brewery Pilot, who have had success with several commendable beverages (Citra Blønd and Ultraviolet are but a few to name).
On top of that, The Constitution also offers the award winning range of Fyne Ales including Vital Spark and Avalanche, which are also Scottish. But beyond this, The Constitution displays remarkable dexterity in its stock of international beer, with Estonian beers such as Viru, Czech Beers like Kozel, and high percent American ale such as Raging Bitch all available in the fridge.
With 14 lines in and a constantly rotating selection of bottled beer, The Constitution is undoubtedly the best place for craft beer in all of North Edinburgh.
8. Clerk's Bar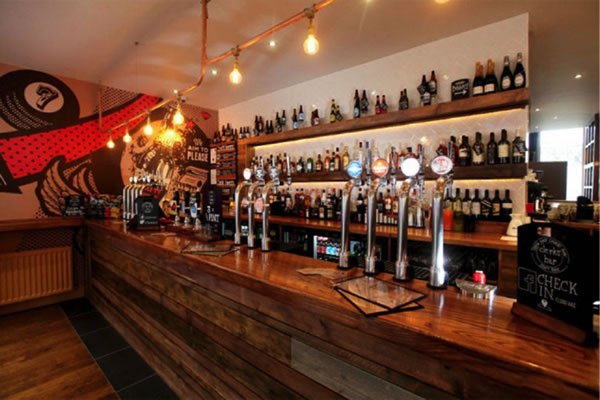 A recent addition to the Southside is Clerk's Bar on South Clerk Street that also specialises in American cooking, attending to their 'low and slow' motto by prominently featuring BBQ and Cajun styled cuisine. When it comes to beer, however, Clerk's Bar is dedicated to providing the best. Their main supply is of local Scottish breweries including Stewart's and Williams Brothers. Try Ka Pai, a pacific islander pale ale, or Gamma Ray, a hoppy American beer; both go great with their hickory smoked ribs or pulled pork.
7. The Guilford Arms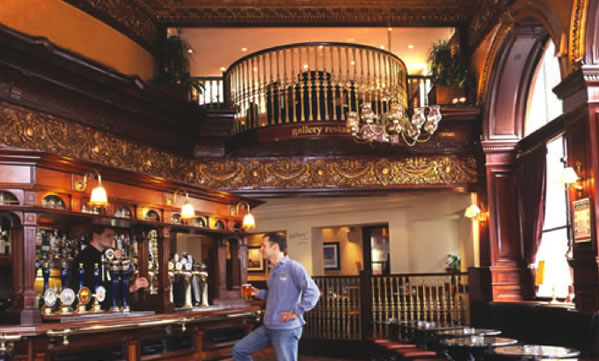 You might be mistaken into think that this is a hotel and not a bar. You walk through a set of revolving doors into the hearty elegance of a high ceiling room adorned with gold and crimson; nothing short of a palace. But this is all before you've even reached the bar. The oldest venue on this list, The Guildford Arms is a true spectacle that radiates a warm and hearty welcome to the thirsty traveller.
Sporting ten real ale taps and 13 keg taps, with plenty of bottled beers from the continent, The Guildford Arms is not low on options. The bar keeps six ale taps permanently Scottish as a commitment to their provision of Scottish brewing. Benefits of this include Drop, a Glaswegian beer by Jaw Brew, and Jarlsberg by Fyne Ales.
6. Spitfire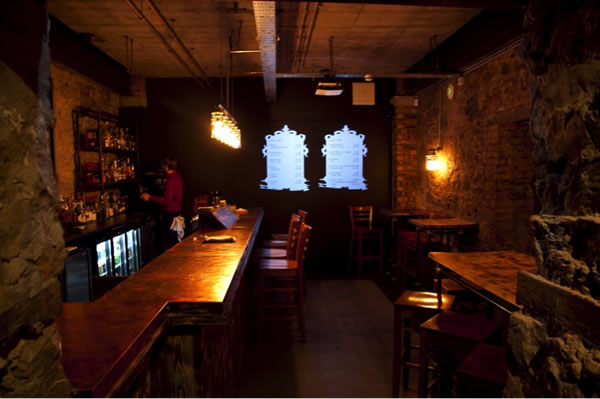 Spitfire opened last December as a subsidiary of The Hanging Bat, and has made a name for itself as a prolific whisky bar with a choice selection of over 60 American bourbons. Indeed, the downstairs is reminiscent of a 1920s speakeasy, harbouring an intimate and lively atmosphere, whilst the upstairs caters more towards dining and wine.
When it comes to beer, however, Spitfire have much to offer on both their upstairs and downstairs bars. Each bar has 6 taps with a range that is predominantly sourced from the States. There is always a low alcohol lager available on tap, the latest being Mikkeller's Drink'in the Sun (0.3%), whilst their cellars features an aging cabinet hosting a collection of rare and prestigious beers that are available for purchase (though for a small fortune). Besides this, bottled and canned beers range from light lagers to the sourness of Berliner Weiss. Definitely worth a visit if you're in the New Town.
5. Cloister's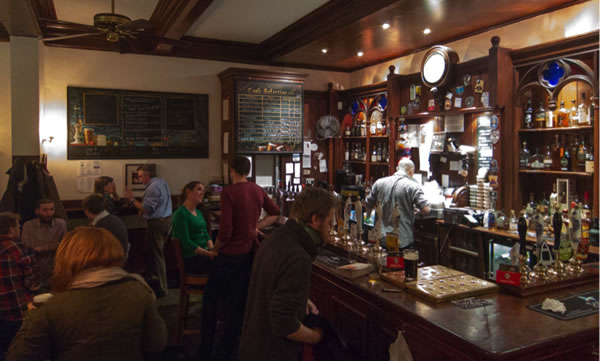 Celebrating its 20 th anniversary this year, Cloisters invites you into its warm and welcome abode located just off of the Meadows. There is a rustic charm to this bar that radiates a sense of community and belonging, which is found in the friendly nature of the customers and the staff. And of course the beer, let's not forget that.
Cloisters is a haven for Scottish breweries, with big names on tap that includes Williams Bros, Alchemy, Fyne Ales, Black Isle, Highland and Stewart's. In their bottled beer selection they also offer beers from Mexico and America. Featuring 19 taps, 8 of which change constantly, you'll have plenty to choose from. Look out for Alchemy's Citra Burst, or Highland's Orkney IPA.
4. Brewdog

The Brew Dog Company originated in Fraserburgh back in 2007 by two 24 year olds, James Watt and Martin Dickie. Four years down the line and the two friends had established their fourth bar on the Cowgate, a stronghold amongst the tide of clubbers and tourists flocking into the murky depths of nearby binging holes such as Sneaky Peats and The Three Sisters. It is their story of success that is a testament to the efforts of microbreweries for producing beer that is both delicious and upstanding.
Brew Dog's only bar in Edinburgh is now a hub for craft beer in the city centre. Though you can find many of their popular beers in supermarkets, you are unlikely to find their most bizarre and beautiful products in Tesco's, nor experience the same taste as it is on draught. Forget the mundanity of The Three Sisters and swing by one of the more enlightening places on the Cowgate.
3. Brau Haus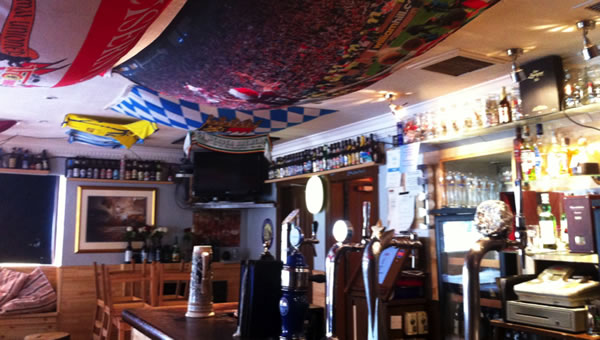 As the name suggests, Brau Haus specialises in German beer as well as beer from central Europe. You might be fooled into thinking that such a cramped venue can supply only one or two kegs, but the bar sports a surprisingly large variety of beer, and probably has one the most prolific selections in the city aside from The Hanging Bat. Fans of wheat beer and double bock can rejoice that Brau Haus stocks some of the best quality beverages in that field including Augustiner Brau, Hacker Pschorr, and the entire range of Schneider Weisse. That, coupled with its coverage of the Bundesliga and supply of pretzels, truly makes a trip to Brau Haus feel like an authentic German experience.
2. The Hanging Bat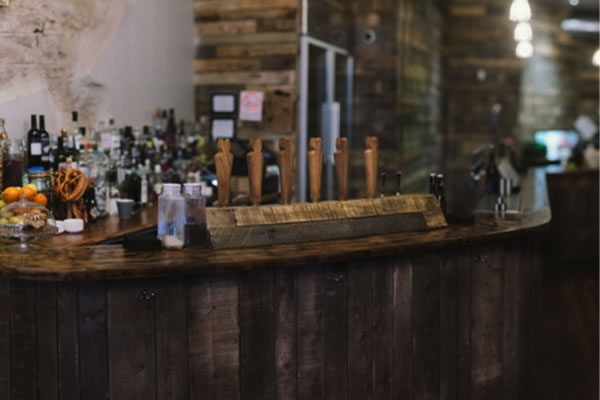 For those looking to up their beer count on Untappd, The Hanging Bat is your sanctuary. Over 100 different beers to offer, and with a venue large enough to be a club in its own right, The Hanging Bat provides a lucrative evening of fun that is magnified by the sheer scale of what they can offer you. The only downside is that their menu is so exhaustive that it will take you forever to get through, a worthy challenge if you happen to be either a diehard beer lover or just an alcoholic.
They typically feature a fair few Scottish beers, as 8 is quite low by their standards when I last visited. Their range covers practically all of the main styles – ipas, wheat beers, Belgian tripels, pale ales, golden ales, lager etc. – that it stretches into the weird and wonderful. Many names jump out, but putting it down to only one or two would be pointless as The Hanging Bat simply has so much to offer.
1. Ushers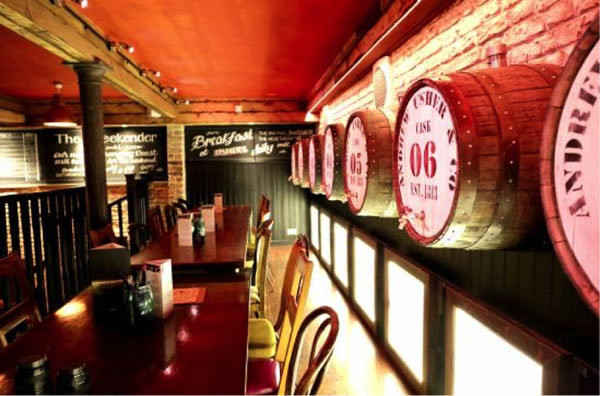 Since opening in 2013, Andrews Ushers and Co. has provided the Southside and Newington with an abundance of golden ales, crisp bitters and hoppy ipas. Student friendly, and happy to offer tasting, Ushers is both affordable and variable in what they offer.
Ushers brews many of its beers on tap, whilst providing an outlet for smaller, local breweries with its rotating kegs. Its own range has several reputable beers to name including Hexagon Sun, a Belgian abbey styled blonde, Happy Cycling, a malty ale, and 1885, a refreshing ipa with a great finish. Perhaps best of all is the popular Computer Love, a hefeweizen that is blended with blood oranges and rounded off with a note of citrusy zest.
Beer aside, Ushers is well versed in pub grub with burgers to rival that of its neighbours, whilst they distil their own whisky with a 'blend your own' option. But beyond this, Usher's is a friendly and welcoming place that is absent of the pretentious beer snobbery exhibited in some of its competitors. Even the most unenlightened beer guzzler can appreciate the efforts the staff go to recommend something you will like. Students can also rejoice that they receive a 20% discount off on all alcoholic beverages.