Edinburgh's New Town is characterised by its Georgian architecture, luxury houses and affluent residents. On the bar front, prices are high but justifiably so – many of Edinburgh's best quality hideaways are nestled in the walls of this neo-classical maze. So come prepared to return with a lighter wallet, but a fuller experience of the Scottish capital.
A few things to point out before we begin
The starting point can be reached easily from Princes Street by walking across St. Andrew's Square, down to Queen's street and turning down Broughton Street.
Please drink responsibly – we want you to enjoy yourself and so do the bar staff! If you need to miss a bar for the sake of time or inebriation then don't feel you have to tick it off the list.
The minimum time required not including food stops would be roughly 3-4 hours, so we recommend you begin in the early afternoon. The direction of this crawl takes you to the centre of the New Town, with George Street only a 15-minute walk away.
1. The Empress of Broughton Street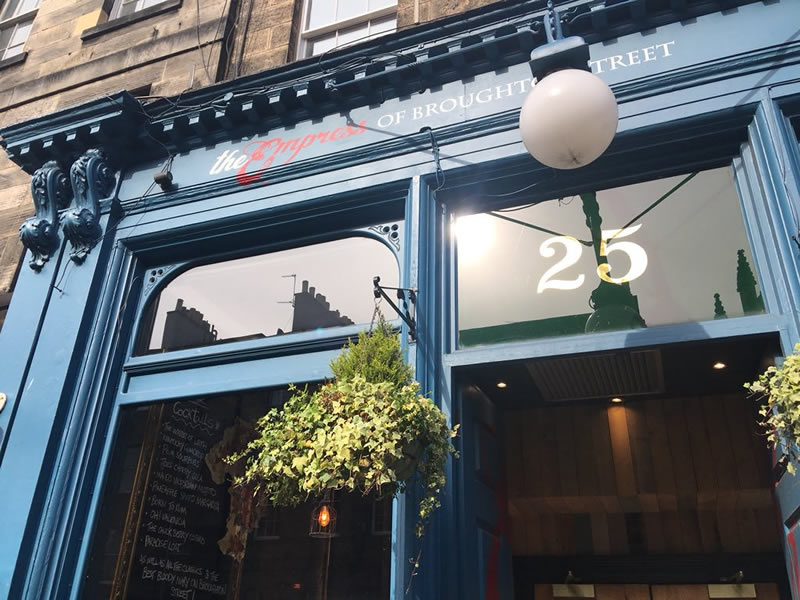 We begin our tour of Edinburgh's historic New Town near the junction at the top of Leith Walk. The Empress of Broughton Street has a lively atmosphere to it and a suiting décor to match. Known for its American-styled menu, The Empress boasts enormous flatbreads and tasty hot wings to go with its decent wine selection. Should desire to stock up on grub before a long-haul, this would be a sensible choice.
2. The Barony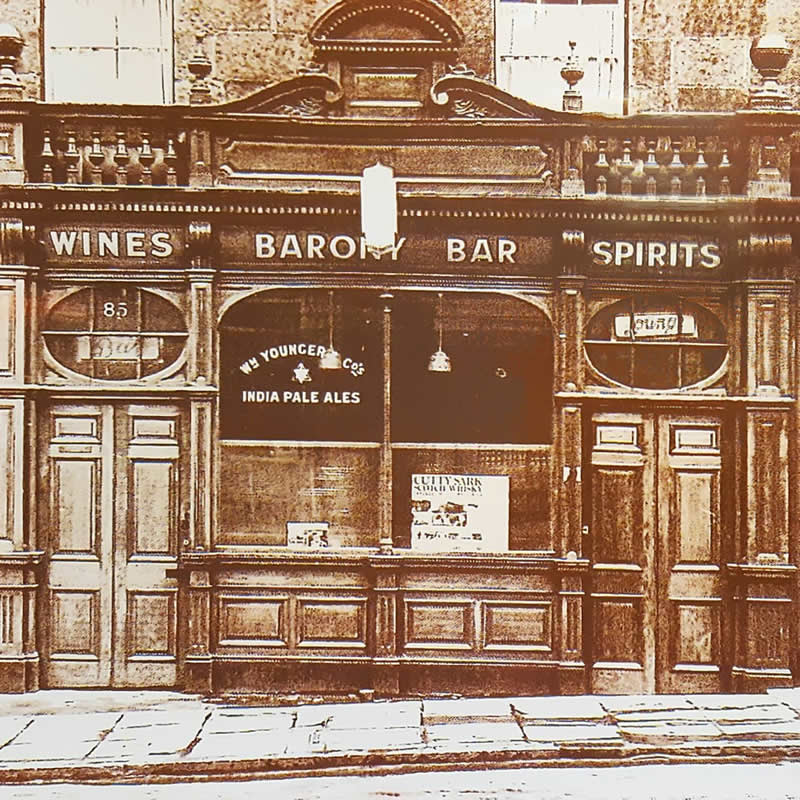 Barely a few metres down the road and you'll find the welcome abode of The Barony, a gastropub with excellent cuisine, a traditional aesthetic and superb staff to boot. Priding themselves on their choice pick of local ingredients and drinks, this bar delivers both delicious food and the professional service to match.
3. The Cask and Barrel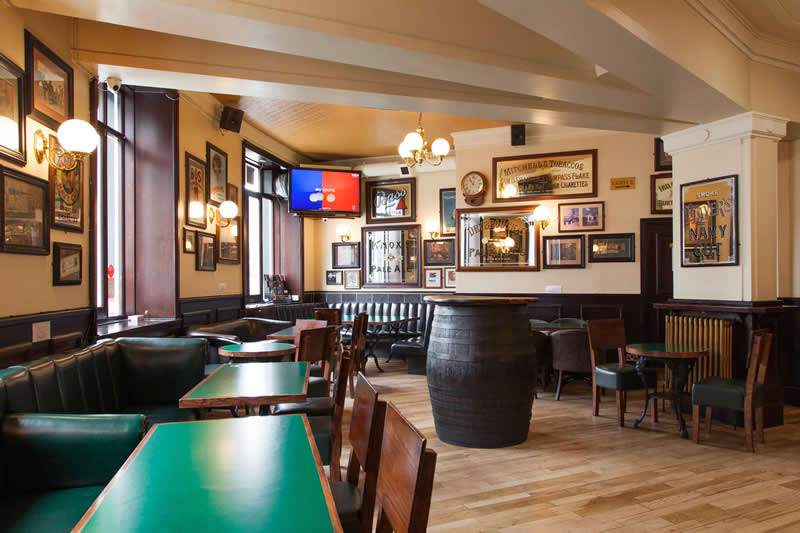 At the junction where Broughton Street meets East London Street resides The Cask and Barrel. True to its name, this pub offers a wide range of ales to accommodate thirsty travellers, the majority of them being traditional Scottish ones. With amiable staff to serve and a great local crowd willing to have a natter with you, The Cask and Barrel comes off as the most down-to-earth bar on this list.
4. The Ox Bar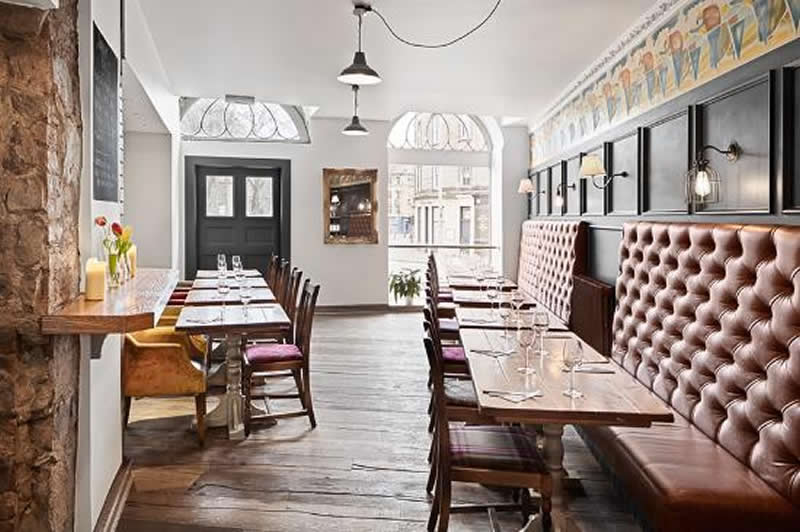 A stone's throw over the road, The Ox Bar is busy slow roasting succulent barbequed pork belly, boiling lobsters, or grilling prime beef burgers. Don't be mistaken, their vegetarian menu comes off as no less impressive, where The Ox's strengths truly reside in their burgers – both meat and non-meat options available. The staff are very accommodating and professional, and go the distance to make your experience here – be it for their fine wines, dining, or both – the best it can possibly be.
5. The Cumberland Bar (optional)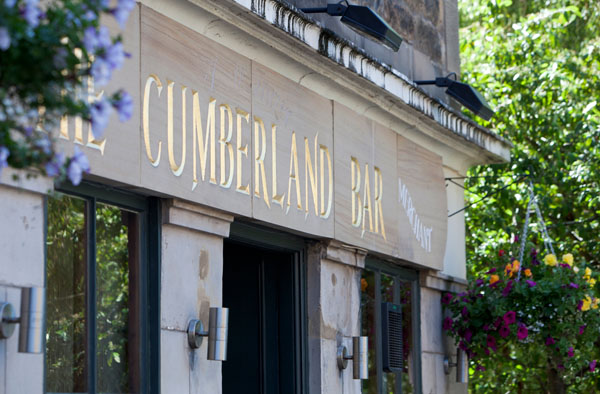 Although The Cumberland Bar diverts from the prescribed route, its proximity to The Ox, its cultural heritage and what it has to offer make it too good to pass up. The most alluring feature of The Cumberland Bar by a large margin is their spacious and relaxing beer garden, complete with delicate shrubbery and trees that add a peaceful respite from the hustle and bustle of Fringe life. They are not short on real ales, sporting more than 15 taps for you to choose from. And the bar's depiction in Alexander McCall Smith's 44 Scotland Street succeeds in impressing upon you an eloquent picture of one of the New Town's most renowned treasures.
6. The Little White Pig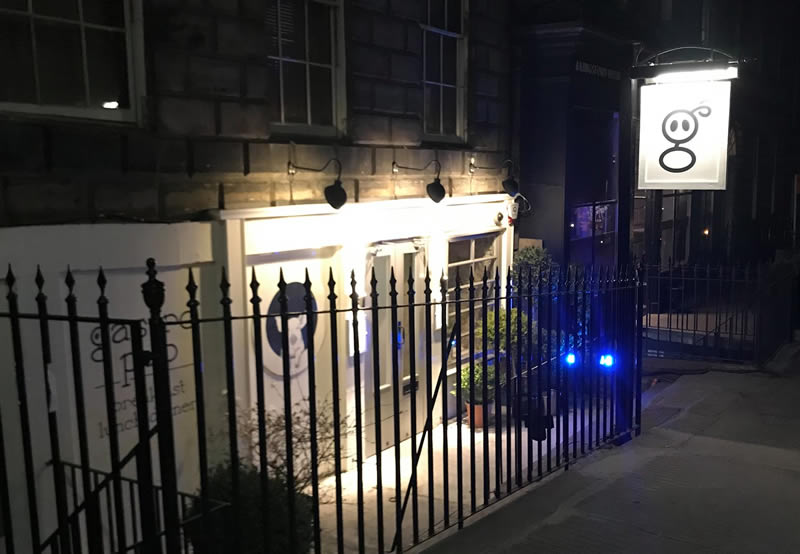 Situated on Dublin Street, The Little White Pig's size comes off as deceptive: a medium sized upper floor for dining, and a sprawling cellar labyrinth beneath, both equipped with their own bars. The subterranean maze is by far its most noticeable quality, one that is well worth visiting, but the layout of the bar comes second to its food. The gastropub-styled cuisine is complimented well by its decent wine selection.
7. The Wally Dug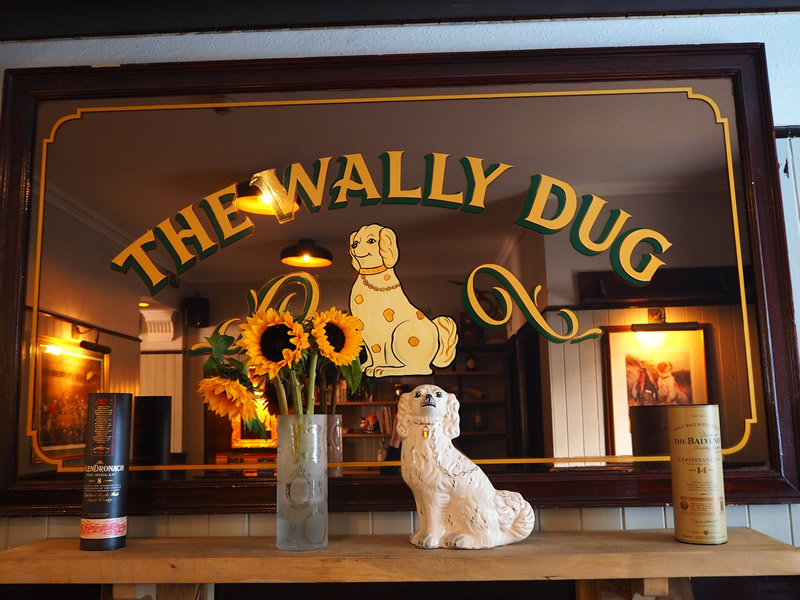 A five minute walk from Dublin Street to the end of Northumberland Street will bring you to the doors of one of the New Town's best kept secrets. The Wally Dug is home to local clientele, more so than its competitors. A traditional Scottish pub, The Wally Dug sheds off the high-brow pretention that some of the other bars on this list may exhibit. True to its name, The Wally Dug is canine friendly, so bring along your pooch on a Sunday afternoon to try your hand at their popular pub quiz.
8. Six Degrees North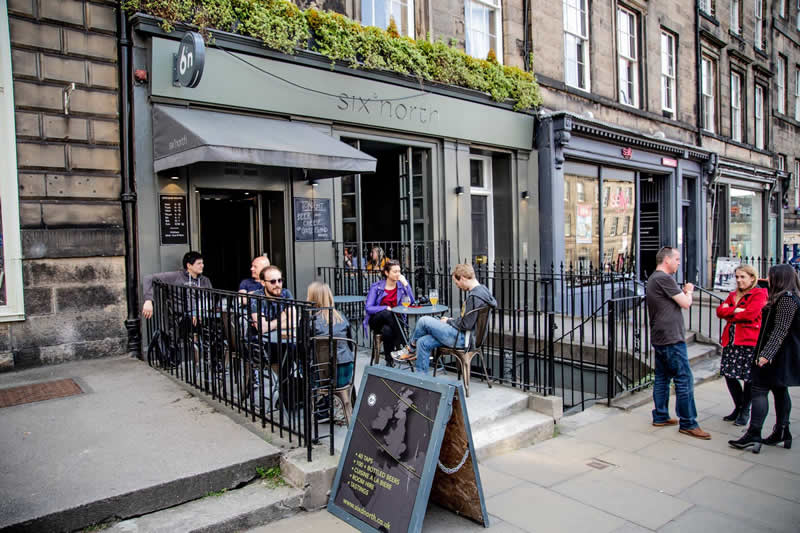 No other bar on this list can come close to the number of beers that Six Degrees North can offer. In fact, if you added up all the beers the remaining ten bars could muster it would still fall utterly short to the sheer magnitude that Six Degrees North delivers. With forty beers on tap and dozens more in the fridge, you will not be short on options. Truly, Six Degrees North is more a Shangri-La for beer lovers than a traditional pub.
9. The Antiquary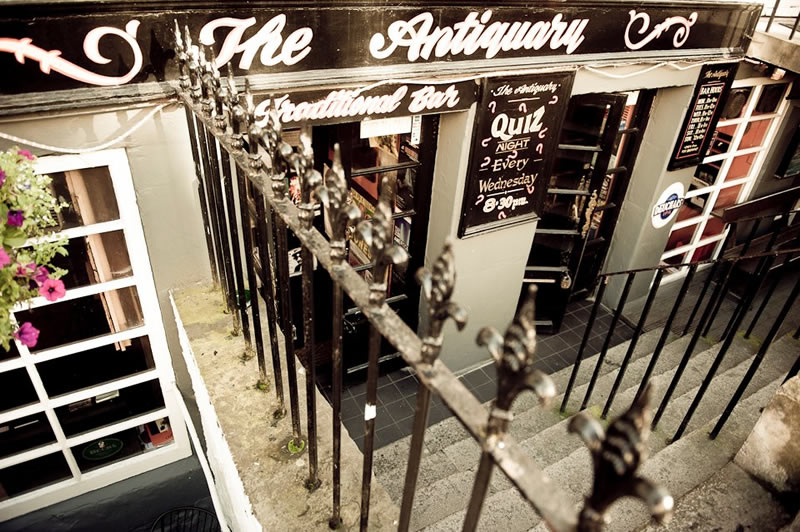 Coming down from Howe Street, curve round St Stephen Street and you'll see The Antiquary on your left tucked downstairs. A basement bar, this New Town classic delivers on all fronts: rare whiskies, real ales, pub quizzes, live music, and poker. Steeped in a rich tapestry of cultural exposure, ranging from the Stockbridge hippies of the 1960s to 80s new-wave rock bands, The Antiquary feels a fitting name to this bar, one that exudes charm at every turn.
10. St. Vincent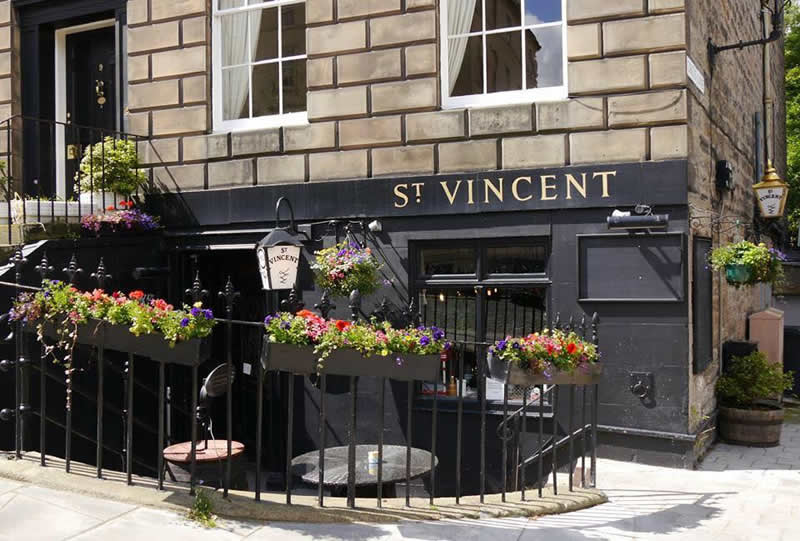 A fittingly named pub to the culminating point of this crawl, The Last Word Saloon is the last but by no means least stop. A cocktail joint by trade, this bar will set you up nicely for hitting the town with their eclectic range of delectable home grown concoctions.
10. The Last Word Saloon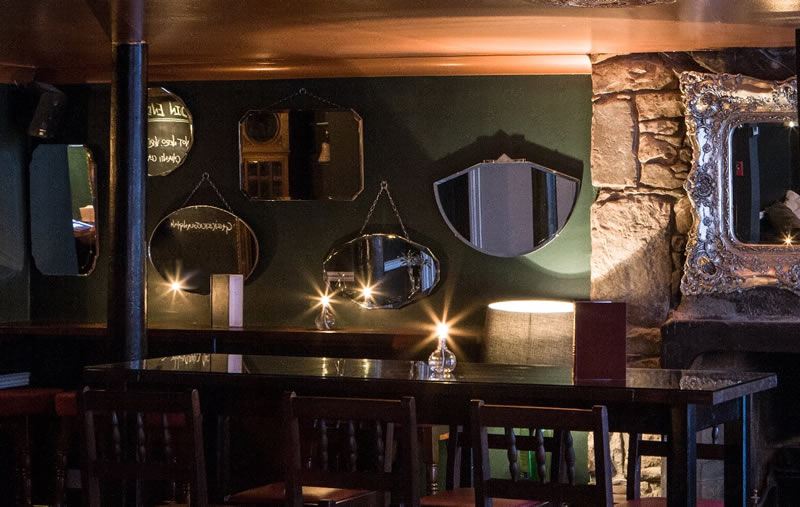 You have now reached the limits of the New Town and are beginning the approach Stockbridge. Princes Street is but a 10 minute walk away, but should you continue to head North West, you'll sample some of the fine dining and bars that Stockbridge has to offer.