The third of our pub crawls, the Old Town North trail has an extensive list of both core and optional bars to choose from. Being the dead centre of town, you are by no means short on options and you may even find extra nearby bars to whet your whistle. Bear in mind, however, that this is a busy areas and you will face hordes of tourists and performers clogging up the streets. Some of these bars may be too busy to visit so, be willing to compromise. A few things to point out before we begin
The starting point can be reached from Princes Street walking across North Bridge and down the Royal Mile. Alternatively, you can get the 300 bus from Leith.
Please drink responsibly – we want you to enjoy yourself and so do the bar staff! If you need to miss a bar for the sake of time or inebriation then don't feel you have to tick it off the list.
The minimum time required not including food stops would be roughly four hours, so we recommend you begin in the early afternoon. The direction of this crawl takes you to the Grassmarket where you will be surrounded with more places that have a 3am or 5am license.
1. The Canon's Gait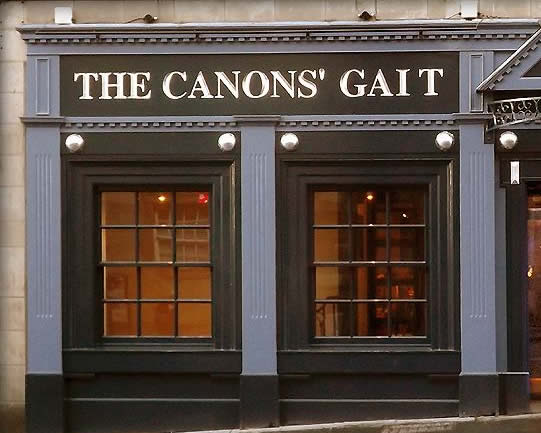 The Canon's Gait is located a quarter of the way up the Royal Mile. A spacious venue with both an upstairs and a downstairs, it can accommodate large numbers. An ideal place to fill up in, The Canon's Gait offers craft beer and food pairings as well many traditional Scottish dishes.
2. The World's End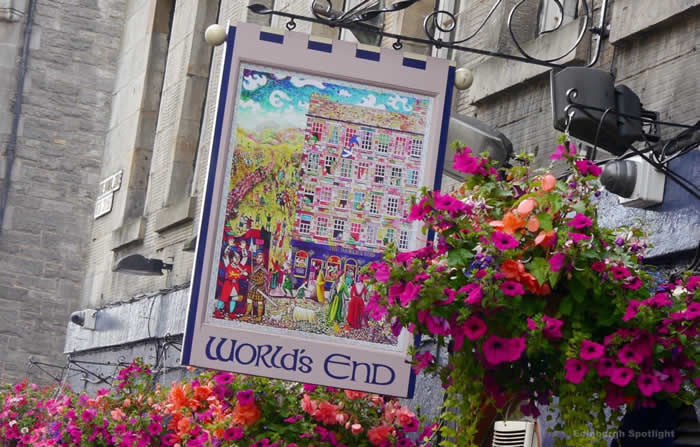 Steeped in history, The World's End dates back to the 16th Century, decorated with various trinkets and artefacts of Scottish culture. Due to the nature of its history and its location, it is a popular tourist destination year round. It should be noted that this is largely a standing bar with a large dining area, and thus it gets cramped very easily. Equally, make sure you have the right currency; the staff don't take kindly to those who demand to pay in dollars or euros.
3. The Waverley Bar (optional)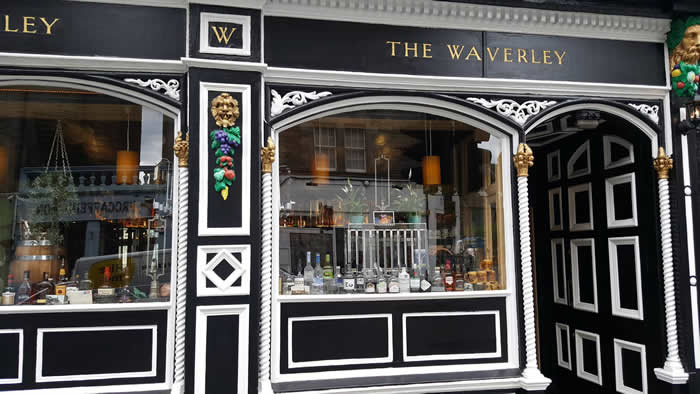 The Waverley Bar possesses a unique, Bohemian vibe to it. Its ceiling is plastered with various musical scores, old newspapers and comic strips; its walls are decorated in band posters advertising gigs; and its gold and white columns make it appear more Parisian than Scottish. And yet, for all its quirks, the Waverley is nonetheless tatty in places. Not in a down and dirty way, but in a musty, attic that hasn't been opened in years manner, that sets it apart from the other bars on this list. In many ways, it doesn't do the tourist thing on the basis of having a more gritty feel to it than the over-glammed tartan-tat bars that hog the Royal Mile. It is for that very reason that it is worth visiting.
4. No 1. High Street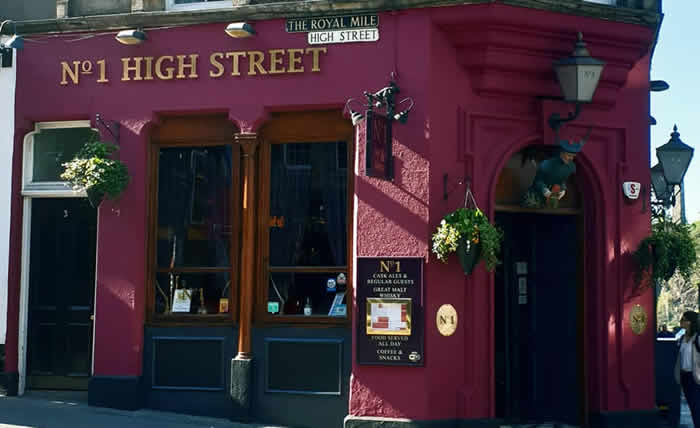 Unlike other pubs on the Royal Mile, you will find more local cliental in No 1. High Street. The food menu, whilst a mixed bag, is to a decent standard, but comes second to the beer and whisky selections.
5. Royal Mile Tavern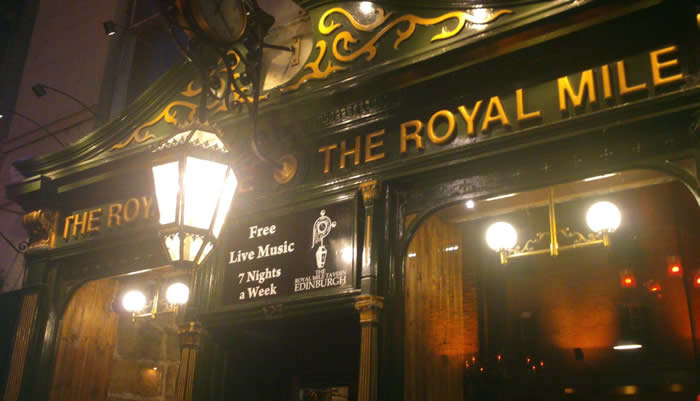 The long wood panels and brass inlays give The Royal Mile Tavern the appearance of a Wild West saloon as opposed to a traditional Scottish bar. Aesthetics aside, the bar offers a decent range of Scottish beers and adequate pub grub. Be warned, its proximity to The Tron, the train station and the Royal Mile make it a very popular outlet.
6. Scotsman's Lounge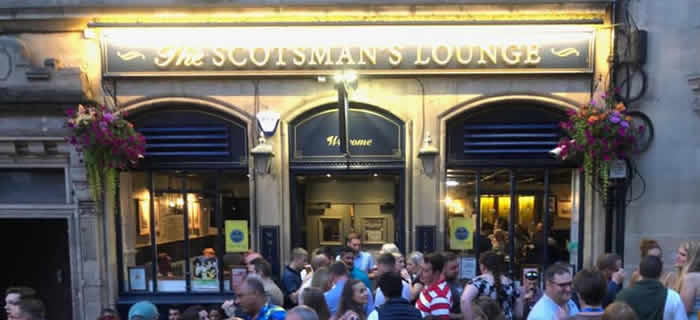 At the cusp of Cockburn Street resides number six on the list. The Scotsman Lounge is renowned for its live music, with sessions running throughout the day. As such, there isn't much in the way of seating. So, if you are looking for a quiet chat and respite from the throes of the festival then this is definitely not the bar. However, if you enjoy good beer, great live music and a venue presided over by amiable staff, your experience of The Scotsman Lounge will not go forgotten.
7. The Malt Shovel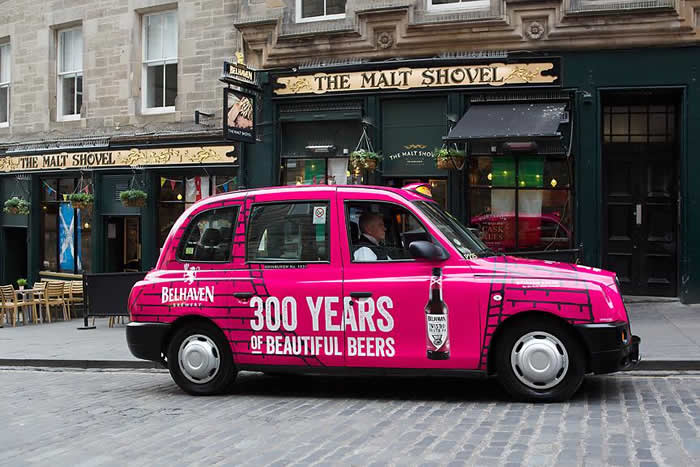 Curve down the road for thirty seconds and you'll hit the second pub Cockburn Street has to offer. You might be mistaken for thinking The Malt Shovel can hold only small numbers but it is surprisingly large, complimented further with outdoor seating. As a Belhaven pub, it offers traditional food (pies are a particular highlight here) at moderate prices, along with a wide selection of ales.
8. Devil's Advocate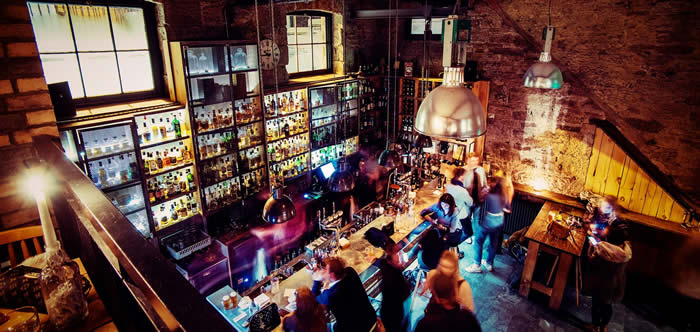 If you are sick of traditional bars by this point, Devil's Advocate offers a respite in the form of a refurbished, proto-modern bar with a vast cocktail and spirit selection. It goes without saying that Devil's Advocate is not for cheapskates; if you value the weight of your wallet then this might not be the place for you. If you're willing to give it a shot, you'll find their whisky selection is arguably the most extensive on this list, offering some rare and prize-winning whiskies.
9. Deacon Brodies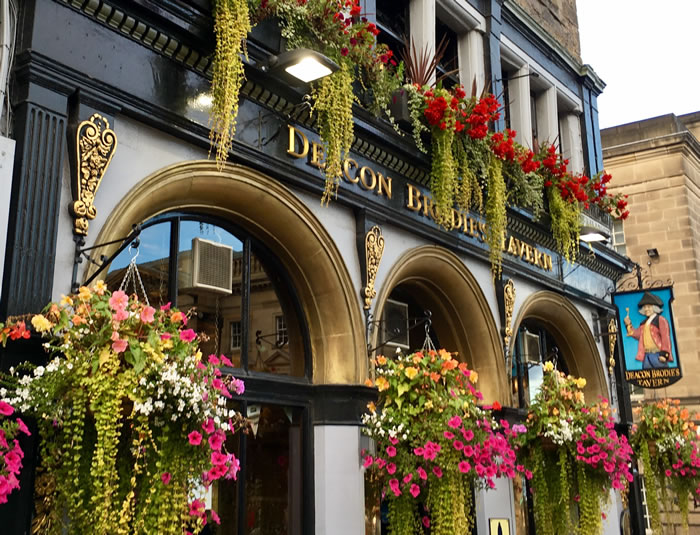 Deacon Brodies is perched at the top of the Mound, making it an ideal starting point if you fancy cutting the first seven pubs short. By now you are more than halfway up the Royal Mile and closing in on the Castle, making this an ideal place to detour on to the Castle promenade. Unfortunately Deacon Brodie's has gathered a reputation for being a tourist trap over the last decade. You could encounter inflated prices, long queues at the bar and excessively waiting time for food. If you can forgive this, it's definitely worth a visit for the history attached to it.
10. The Jolly Judge (optional)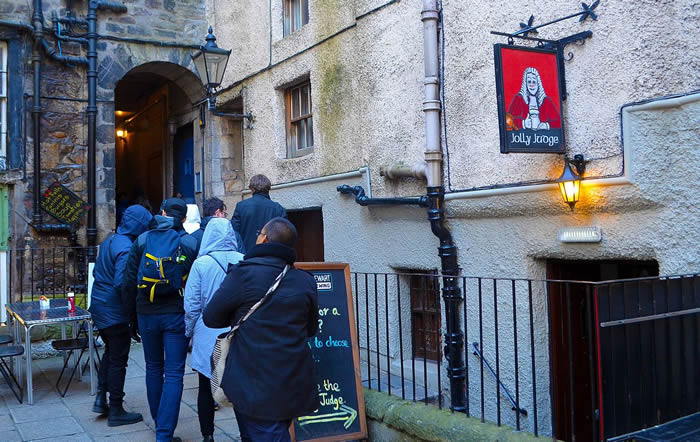 Its low ceiling may come off less than inviting for those over six foot, but that is easily rectified by the friendly nature of the staff. Whilst only being optional, The Jolly Judge is a charming and cosy abode to the thirsty traveller, which makes up for its lack of space with hospitality.
11. Bow Bar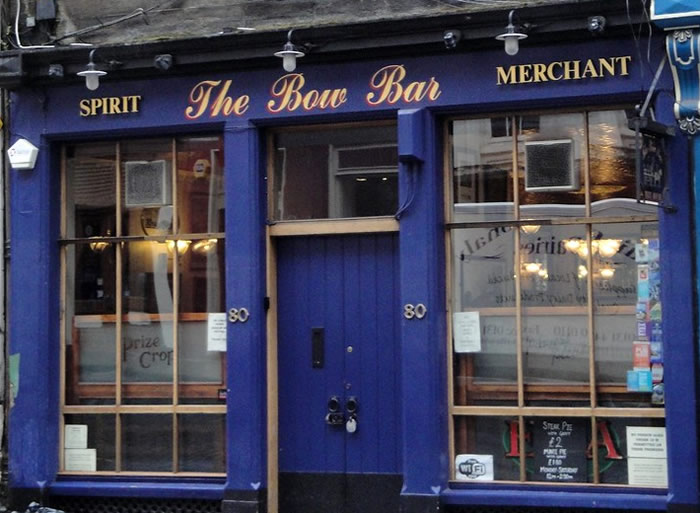 Award winning traditional pub The Bow Bar is ten on the route, situated near the top of Victoria Street. Possessing the widest range of craft beers on this crawl, and with plenty of whisky options available. Coupled with live folk music, The Bow Bar lives up to its reputation, as one of the Old Town's most treasured venues.
12. The Last Drop (optional)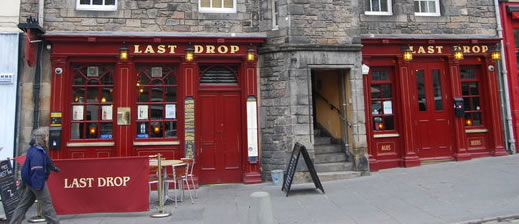 Curve down the bottom of Victoria Street, turn right and you've hit the Grassmarket; the ending to this crawl. Never fear as there are still many choices of bars within your reach. The Last Drop is one of such option that may appeal to you given its reasonable prices in an otherwise expensive district. As a Nicholson's pub, it offers the usual pub grub options if you need to fill up.
13. The Beehive Inn (optional)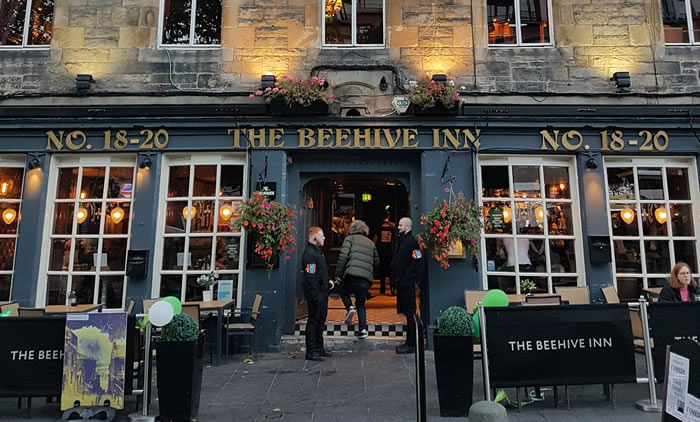 Another Nicholson's pub, The Beehive Inn offers similar food and beverages to The Last Drop, except it is larger, slightly cheaper with a little less quality. It has a nice atmosphere, however according to Trip Advisor and Google, its service and waiting times have been a notable complaint in recent years. It earns an optional place on the list, only because of its lovely interior and desirable outdoor seating. In the midst of an August heatwave, this makes for the perfect location.
14. The Black Bull

The culminating point of this lengthily pub crawl, The Black Bull is a classic Edinburgh pub that sits in the shadow of the Castle. If you have managed to make it and can still walk properly, you will find yourself surrounded by good cheer, proper pints and, if fortune allows it, live folk music. As you sit down to enjoy your victory pint upon completion, you may be wondering to yourself: "Where do I go from here?" Well, The Black Bull is an ideal place to end. It will leave you with many options, such as heading to the Cowgate, West End or down to the Meadows, leading into Newington. If you choose to be creative with this crawl, the Grassmarket has a plethora of options to choose from and you may want to deviate from the prescribed list. The new neighbouring Cold Town Brewery has been well received for its craft beer and live music. In any case, you can rest easy in knowing you won't be short on options.