Advertising with Broadway Baby is an efficient and cost-effective way to let theatre goers know about your show. We are producers, marketers and performers ourselves, so we know what works and how to achieve it on a budget.
If you're confused by all the buzzwords and jargon used in advertising, we've created a page of FAQs to guide you through the terminology and how banners work.
Why choose Broadway Baby?
BroadwayBaby.com is a popular and vibrant destination site for the Fringe, one of the most comprehensive and interactive guides to performing arts that has ever existed. We make navigating the world of live performances just that little bit easier.

Why do ticket-buyers visit our site?
Reviews - the most respected and widest coverage in the UK
Interviews - interviews with more comedians and theatre-makers than any other site
Listings - we list every show in the major festivals, plus thousands of listings from across the UK and USA
Coverage - we send specialists to review all the performance types at the Fringe, including cabaret, comedy, children's, dance, music, musicals, opera and theatre
Why do shows buy advertising with us?
Broadway Baby covers all performance genres with an equal level of expertise. A review here really does mean something.
Charles Pamment, Creative Director, SpaceUK
Reach - When we last checked in April 2019, Broadway Baby served over 17 million pages per year to over 2 million visitors. Our Twitter feed alone had a reach of nearly 3 million.
Size - We review an average of 2,000 shows per year - that's over 5 per day including weekends. No other reviewing site provides more comprehensive coverage.
Technology - our ad server provides tools for assigning ads and tracking their effectiveness
Prestige - our site is respected and so are the adverts it serves.
We make advertising with us ridiculously simple. Upload your banners direct to our site, set the dates you want your ads to show and then pay for your ads. No sales pitches from advertising managers, no long email chains, no complications. Make your ads live the same day you upload them and monitor their performance with our stats tools.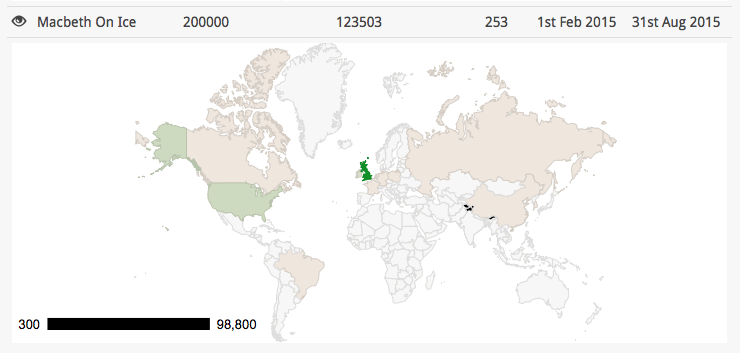 Real-time stats show you how your campaign is doing and where those eyeballs are coming from.
The Homepage Carousel
In 2022 we struck a deal with theSpaceUK to display poster-style ads in our homepage carousel. If you have a show at theSpaceUK at the Edinburgh Fringe, please contact their press office for details. We are evaluating whether to expand this advertising type to other venues in future years. Contact the Broadway Baby publisher if you are interested in exploring this.
Online Formats
We offer two industry-standard formats for online ads, the 'MPU' 300x250px banner and the 728x90px leaderboard.
What does it cost
We keep it simple. A banner, whether it be the leaderboard (728px x 90px) or MPU (300px x 250px) is just £12 per day.

How to Advertise with Broadway Baby
For online advertising - do it online! Simply click here to visit our online banner booking page.